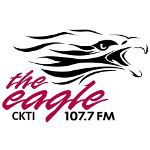 Steele just finished recording his debut album with Kent Wells, best known for his work with Dolly Parton. His debut single "Private Road" is currently being played on radio in the United States and is destined to become a party anthem back home here in Canada.
And where did "Steele" come from? Steele says it was always his nickname and is easily remembered for an artist. He need not worry; no one is going to forget him or his music once they take a listen.
…Steele was born into a fishing family in a small town in the Canadian Province of Nova Scotia. He started out fishing with his brother and father but his passion has always been country music. At the age eight he wrote a song about his dad running his boat aground and the rest is history. However, opportunities are sparse in Nova Scotia and money was tight so at eighteen Steele built a small fish n' chips takeout that has since grown into one of Nova Scotia's most renowned seafood restaurants.
Steeles upbringing and strong work ethic have paid off in the restaurant business and he is primed now to make a name for himself in country music. Recognition of his work grew further when his song "I'll Be There" was elected by the United Nations as the theme song for International Year of the Volunteer in 2001. "I'll be There" was broadcast in seventeen languages throughout 104 countries. Steele continued his humanitarian work in 2002 by organizing and being the star performer for a benefit concert for those affected by catastrophic flooding in Vietnam. He raised $120,000.00 USD, which he personally dispersed to 400 families affected by the flooding in the Mekong Delta.
Steele writes all his music and is a self taught pianist and guitarist. His music is honest, heartfelt and keeps with the great tradition of country music while infusing a Southern Rock sounds and issues. His lyrics take you on a journey through his life and remind listeners of their own experiences; his music is at once deeply personal and infinitely relatable. Steele has not shied away from the issues that affect his community in his music. He sings of young men and woman being sent overseas and the impact on those left behind. He openly tells of the ravages of addictions he has witnessed. He bravely sings about a loved one being diagnosed with terminal cancer. He tells the tragic story of a wife being widowed by the sea when her husband's boat sinks. That's not to say that he doesn't know how to celebrate. With his introspective lyrics, Steele brings new life to celebrating love, faith, marriage, family and simply having a good rocking time.
Steele was born to entertain. He thrives off crowds. He was a performer for the 2009 Cavendish Beach Music festival, sharing the stage with greats like Tim McGraw and Reba McIntyre. He was invited back in 2010 to be the main emcee for the festival to introduce and pump up the crowd for star performers, including Keith Urban, Taylor Swift and Lady Antebellum.